The event rules listed below will be strictly enforced by event staff and security at all times. These rules are for your safety and the safety of others around you. Failure to comply with these rules will result in your ejection from the premises without a refund.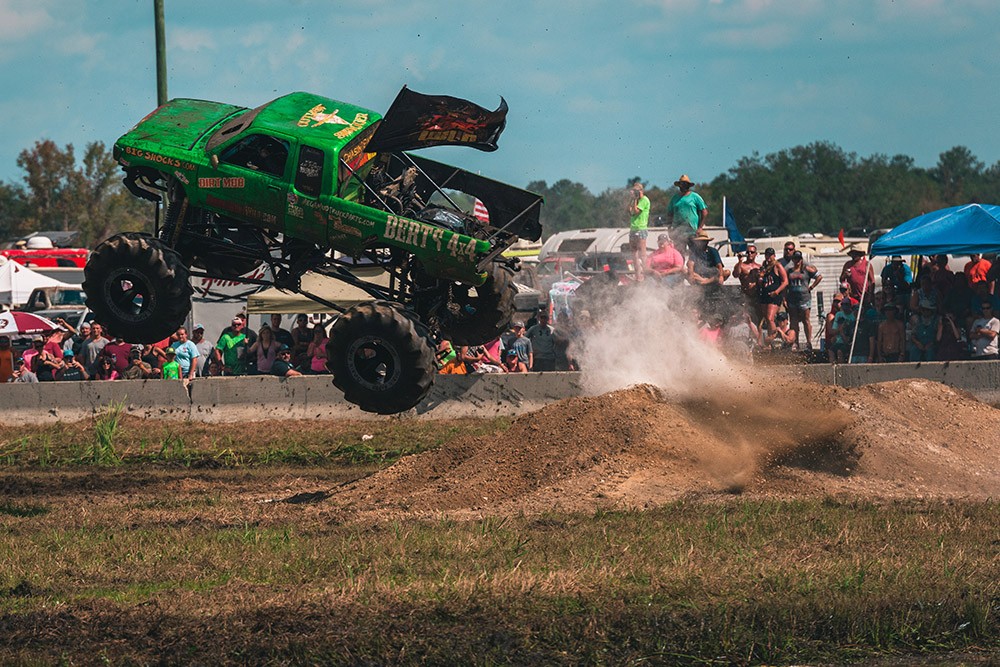 The speed limit is 10MPH everywhere on the property except for the Mud Hole.
No underage drinking.
Children under the age of 18 must have a waiver signed by both parents and be accompanied by a parent at all times. If a parent is not present, you must present completed notarized letter of temporary guardianship attached to your completed Parental Consent form. Named guardian must be present with minor at all times (Again, both parents signature has to be on Parental consent form).
No public nudity.
No firearms.
No pets.
No illegal drugs.
No drinking and driving. All state alcohol laws apply, including DUI laws.
All riding is at your own risk.
Everyone entering the premises, must sign a liability waiver prior to being admitted, this is whether or not you are a rider or accompanying a rider.
All riders are strongly encouraged to wear proper safety equipment and all manufacturers' safety requirements must be followed. All riders under the age of 16 must wear a safety helmet and eye protection as per Florida statutes (F.S. 316-2074).
Riding is allowed in the mud pits only during the daylight hours, or as posted by the park. Absolutely NO Mudding after 7:00pm every night.
No motorized vehicles (Trucks, ATV's, UTV's, Golf Carts etc.) are to be operated inside the park between 7:00pm – 7:00am each night. Only STREET LEGAL vehicles will be permitted to enter and exit the park using the main road during that time. Exception: Sheriff's Department, Security.
Quiet hours in all of the camping areas are from 1:00 a.m. to 7:00 a.m.
All vehicles must remain within the boundaries of the park and avoid all restricted areas identified by Iron Horse Mud Ranch, LLC.
No fireworks.
Campfires must be placed in a container or hole and must be attended to by an adult at all times. No burning of pallets or tires is allowed.
No chainsaws and no cutting or damaging of any trees or vegetation on the property.
No fighting or aggressive behavior.
No dumping of hazardous materials.
Wristbands must be worn throughout your entire stay at Iron Horse Mud Ranch, LLC. Anyone found without a wristband will be asked to leave the premises immediately and will be required to pay the entrance fee to re-enter.
No littering.
No glass bottles or glass containers of any kind. (Bring it in plastic or cans or it will be confiscated at the gate)
All side by sides and Atv's must have a safety flag & pole. Side by sides and atv's also must have headlights or a glowhip!!!
Mudding Areas are for mudding, grassy camping areas are for camping. If you get caught mudding in a camping area you run the risk of being escorted from the park.
No dirt bikes or two wheelers of any kind.
No Three wheelers or Go carts.
No Racing 4-Wheelers, 2 or 4 wheel drive utility 4-wheelers ONLY allowed.
Golf carts & Side by Sides allowed.
Anyone over the age of 18 must present a valid state driver's license or state issued ID. The ID must not be expired.
No chain driven vehicles
No bogging or aggressive driving in unauthorized places (I.e. camping, roads)
All Recreational Vehichles (ATV, UTV,SxS, etc) must have a flag with a minimal flag size of 1sqft and top of flag should measure a minimum of 80" from the ground.